The School of Sustainability
Mission
Our mission is to foster innovative research, impactful education and engaged communities to achieve environmental integrity, social equity and well-being.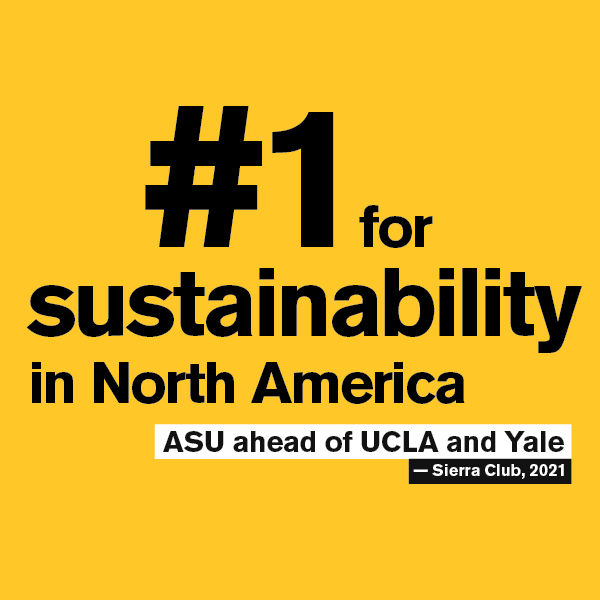 Real impact
If you're looking to make a real impact you've come to the right place. As the leading school of sustainability, we deliver the tools, ideas, and innovations you need to make a real-world difference. A degree from Arizona State University's School of Sustainability allows you to discover, explore, and unlock solutions to today's most pressing challenges. You will also gain the knowledge, tools, and skills for today's fastest-growing career path – one that makes a real difference in the real world for a lifetime.
Real people
We are an international community of sustainability changemakers, world-class faculty, community partners, and learners from all backgrounds, interests and walks of life. We have a passion to explore, discover, and deploy real-world solutions to environmental, economic, and social challenges.
As the first comprehensive degree-granting program of its kind in the United States, our students, staff, and world-renowned faculty focus on transdisciplinary and impactful research, teaching, and engagement in multiple topical areas ranging from climate change, social justice, community development, natural resources, public policy, and business enterprise, drawing on social, technological, and ecological approaches that are integral to the study and implementation of sustainability.
We know the value of transdisciplinarity. It creates synergies between multiple disciplines that lead to new insights and knowledge. Sustainability is more than just bringing disciplines together — we engage with communities, decision-makers, and businesses to empower transformations.
Real results
Our graduates have been launching thriving and impactful careers since our School was founded in 2006. Today, the demand for our graduates is stronger than ever. The School's course of study emphasizes experiential and engaged learning, cutting-edge research with faculty, corporate and government experiences, community service, and leadership development. We will prepare you for a career you can thrive in, take pride in, and that will make a world of difference in myriad ways.
Transdisciplinary
The School of Sustainability is committed to transdisciplinarity. Transdisciplinarity creates synergies between multiple disciplines that leads to new insights and knowledge. It is more than just bringing disciplines together — the interaction of disciplines that creates something innovative is that hallmark of transdisciplinary success.
Linking academics and with practitioners in the community who are implementing or looking for sustainability solutions is another important trait of transdisciplinarity. Our students are learning from professors, and also from the people on the front lines of sustainability challenges in cities, non-profits and local businesses who we partner with to both provide educational opportunities for our students and to provide sustainability thinking to these organizations.
The School of Sustainability takes a transdisciplinary approach in its curriculum, addressing a broad spectrum of global challenges, including: energy, materials, and technology; water quality and scarcity; international development; ecosystems; social transformations; food and food systems; and policy and governance.
At ASU we are creating the New American University –a place where knowledge informs decision-making, research and study transcends academic disciplines, students learn from the world around them, and local solutions have global impact. Together we can rethink and reinvent the future of a world at risk.
Sustainability frames our research and curriculum
Sustainability uses an integrated, interdisciplinary approach to understand interactions between people and the environment. This systems approach is also fundamental for designing effective solutions to sustainability challenges. Some of the challenges that guide the research and curriculum of the School of Sustainability are:
The need to envision the future we want and the necessary strategies to work towards that goal;
The challenges of rapid urbanization and a doubling of global urban population in the next 30 years;
The increased competition for water and other essential natural resources that are in relatively fixed supply;
The ability to mitigate or adapt to harmful global environmental change, including climate change;
The need for renewable energy, "smart" materials, and effective knowledge systems;
The need to understand the human dimensions that influence sustainable programs and practices;
The need for policy and governance that supports sustainable programs and behaviors;
The need to conserve biodiversity and habitats; and
The challenge of providing for global growth and equity in standards of living without irreparably damaging the Earth's natural systems.