Opportunities and experiences
Staying connected with the school and your alumni chapter is fun, informative and can provide great benefits to you. We hope that you will continue to keep in touch and participate in the many opportunities we offer for involvement.
Events and engagements
We offer social, networking and volunteer events at least once a month. See what's coming up.
View events
ASU Alumni Association
The ASU Alumni Association offers discounts, career help, travel benefits and more.
Learn more
School of Sustainability alumni t-shirt
Show your Sun Devil pride with a School of Sustainability Alumni t-shirt.
Link coming soon!
Shape a student's experience
Through getting involved and staying connected, our alumni are giving back tenfold and serving as an excellent resource for students currently pursuing a sustainability degree.
Become a job shadow sponsor
Provide students with an invaluable experience during a half-day visit to your workplace. More informaiton coming soon!
Mentor a sustainability student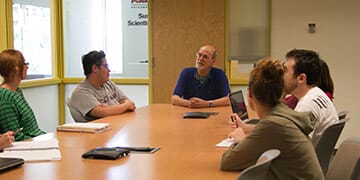 If you have some great experience or advice to share, be a mentor for sustainability students.
Sign up 
Hire an intern
Bring sustainability students onto your team with internship opportunities.
Learn more
Professional development
The School of Sustainability at Arizona State University is committed to the continued professional development of its alumni. The school offers degree programs, certificates, events and career services for alumni.
Career advising
ASU offers services to alumni including career advice, company and occupational research assistance, labor market information, counsel on job search strategy and other employment-related topics.
Advising
Career-related workshops
Our Sustainability After School series gives students and alumni the opportunity to learn from career experts and industry leaders who offer tools, knowledge and experiences for working in sustainability.
Sustainability after school
Earn a new certification
The School of Sustainability offers certificates that can be taken independently of a degree program.
Certifications